Under the catalysis of objective environment, as people pay more and more attention to the quality of life and respiratory health, air conditioning, as an essential household appliance, its added value in addition to the basic functions of refrigeration and heating is being fully enlarged. In the face of multiple changes of air-conditioning users and use scenarios, subdivision function products have accelerated to come out and become the "catalyst" for the continuous update and development of air-conditioning market and industry.
With the change of market environment and consumer demand, the big data of Jingdong platform shows that sterilization health, personalized customization, intelligent sensing, energy conservation and environmental protection have become the high-frequency "Keywords" of air conditioning consumption, and the consumption upgrading trend is obvious. From the perspective of category function, fresh air conditioning with health, purification and oxygen supply functions has become a "dark horse" trend, which has become a new outlet to meet the healthy breathing needs of consumers and promote the growth of air conditioning market. Recently, JD and Hisense jointly released the new product of "Hisense fresh air air conditioning oxygen cleaning series X6", which is an important step for JD household appliances to join hands with the air conditioning brand to promote the upgrading of market and industrial structure.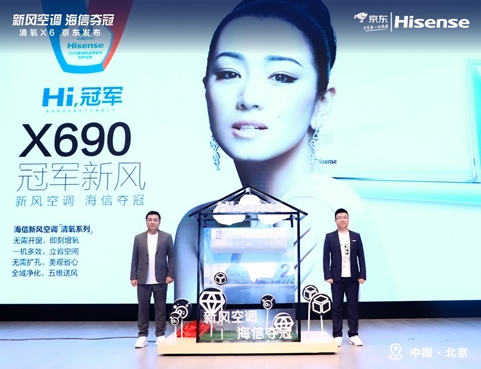 Data analysis and demand mining to accelerate the transformation of high value brand
In the home appliance industry with people-oriented and consumer demand as the core, this year, Jingdong home appliance put forward a new brand proposition of "rejuvenate your life". Relying on the digital advantage layout of the group, Jingdong household appliances and its partners dig deep into users' needs through massive big data, determine products according to their needs, provide clear and effective guidance for brand building new products, help brand manufacturers reduce costs and improve efficiency, and promote high-quality and high value-added R & D and innovation of products.
Hisense fresh air air conditioning oxygen cleaning series X6 is a new product developed on the basis of JD big data and insight into consumers' air conditioning pain points and needs. It is another masterpiece after "Chunfeng series" and "blue whale series", and a product conforming to the times. The X6 new product of Hisense fresh air air conditioning oxygen cleaning series is equipped with Hisense's leading fresh air technology and innovative process design to meet the needs of consumers in many aspects. With "no need to open windows, immediately increase oxygen" as the biggest highlight, it breaks the traditional idea that only opening windows can ventilate. In addition, its temperature compensation function gives consumers a better intelligent feeling. When it detects that the ambient temperature fluctuates greatly, the air conditioner will automatically start the refrigeration / heating mode to maintain the constant indoor temperature and give users a comfortable experience of constant temperature and fresh oxygen.
Join hands with brand partners to break the stock market and promote the industry to be renewed
According to the forecast report of China's air conditioning market in 2021 released by Ovi cloud, fresh air conditioning has become a new favorite in the industry, and "fresh air" has also been listed as a new health technology direction by more brands. JD household appliances and Hisense jointly released new air conditioning, which represents the latest cutting-edge technology, is another strong cooperation between platforms and brands. With the advantages of Jingdong's Omni channel and supply chain, Hisense has realized the online and offline full integration of products, services and experience, which helps to refresh the user experience in the whole process from production to sales to after-sales, and finally realizes the win-win situation of cost reduction in production and operation and efficiency increase in sales market, or has found a way to break the situation of the storage market for growth.
From the air-conditioning industry to the home appliance industry, today's Jingdong has completed the role transformation from a retailer to a supply chain based technology and service enterprise, and has built a global leading supply chain infrastructure. Through innovative applications such as intelligent supply based on big data, intelligent operation of warehouse distribution and accurate matching of people and goods yard, JD household appliances connects the industrial end and consumer end in series, and works with partners to speed up the popularization of emerging categories, promote the renewal of household appliance market and upgrade the industrial structure, so as to create a better life for consumers all over the country.
0