On March 5, the shareholder of shunluo Electronics (securities code: 002138), Xinyu hengshuntong Electronic Technology Development Co., Ltd., pledged 2.5622 million shares to Shenzhen hi tech investment commercial factoring Co., Ltd. for the borrower's production and operation.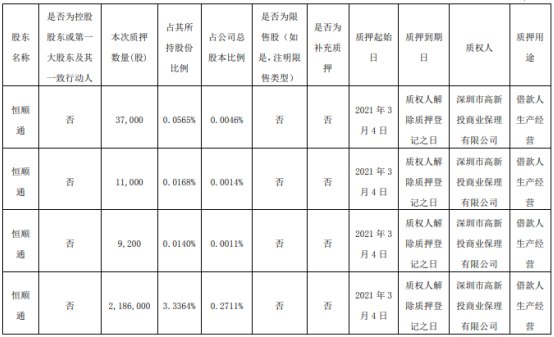 The pledged shares were 2.5622 million, accounting for 3.91% of the company's shares and 0.32% of the company's total share capital. The pledge period is from March 4, 2021 to the date when the pledgee cancels the pledge registration.
According to the announcement, Hengshun Tong holds 65520000 shares, accounting for 8.13% of the total share capital of the company. It has pledged 50750200 shares, accounting for 77.46% of its shares and 6.29% of the total share capital of the company.
According to the company's 2020 annual report, the net profit of the Company attributable to shareholders of Listed Companies in 2020 was 588485500.73 yuan, an increase of 46.50% over the same period of last year.
According to digbei.com, shunluo electronics is mainly engaged in R & D, design, production and sales of new electronic components, providing technical scheme design, technology transfer and consulting services, and selling self-produced products.