On April 2, Gehua cable (600037) released the 2020 annual performance express announcement, which showed that the total operating revenue from January to December 2020 was 2575378294.71 yuan, a decrease of 6.64% compared with the same period of last year; the net profit attributable to shareholders of listed companies was 163917004.08 yuan, a decrease of 71.83% compared with the same period of last year.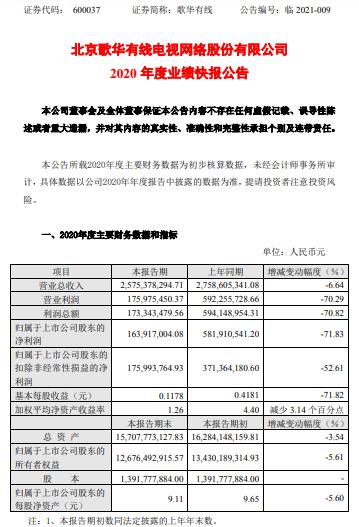 According to the announcement, Gehua cable's total assets were 1570773127.83 yuan, a decrease of 3.54% compared with the beginning of this report period, and its basic earnings per share was 0.1178 yuan, compared with 0.4181 yuan in the same period of last year.
The main reasons for the decline in the performance of the current period are: with the overall downturn of the industry, the number of users of the company has lost to a certain extent; affected by the epidemic, the company's engineering construction, marketing and advertising business have been affected to a certain extent; the fair value of the company's GUI Guang network shares has decreased significantly year-on-year.
Gehua cable is mainly responsible for the construction, management and operation of Beijing Cable Radio and television network, and is engaged in radio and television program receiving and transferring, video on demand, network information service, Internet access service based on cable television network, Internet data transmission value-added service, domestic IP phone service and cable television advertising design, production and release.
0