The topic of "xinxinfei" exposed by CCTV is still on the microblog hot search. China Eastern Airlines, once the first company to "eat crabs" and release "xinxinfei", launched new products against public opinion. On April 6, the air travel product named "yuanchengwanli" officially went on sale.
Different from the previous "xinxinfei", the "yuanchengwanli" is priced at the distance of the route, sold in the unit of 10000 km, with a single product valid for one year, and the distance of the route is deducted for each trip. After purchase, the user can book any domestic air ticket actually carried by China Eastern Airlines and Shanghai Airlines within the validity period. When booking flight seats, the corresponding mileage will be deducted from the products held according to the route distance and cabin of the flight. In other words, the essence of this product of China Eastern Airlines is pre-sale mileage. According to the latest time limit for booking seats, different pricing is given, which is divided into five price levels, with the price of 4666-11666 yuan.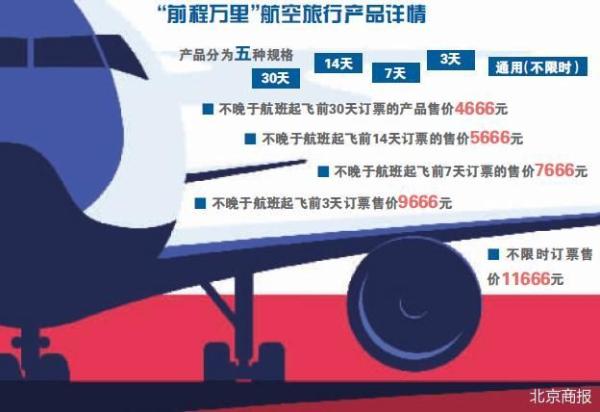 Specifically, the above products are divided into five specifications: 30 days, 14 days, 7 days, 3 days and general (unlimited time). Among them, the selling price of tickets not later than 30 days before flight departure is 4666 yuan, that of tickets not later than 14 days before flight departure is 5666 yuan, that of tickets not later than 7 days before flight departure is 7666 yuan, that of tickets not later than 3 days before flight departure is 9666 yuan, and that of tickets for unlimited time is 11666 yuan.
According to the detailed product rules issued by China Eastern Airlines, users can book all domestic flights actually carried by China Eastern Airlines and Shanghai Airlines in full season, full route and full class within the valid service life after purchase. The reservation of international and regional flights is open according to the epidemic situation.
China Eastern Airlines said that the product is not limited to holidays. Within the valid use period of the product, as long as the flight has seats for sale, users can book the required flight and class tickets without special date restrictions. At the same time, the product is not limited to class, and can be exchanged for first class, luxury business class, business class, super economy class and economy class. The user may hold one or more products (regardless of specifications) continuously. A single product is valid for one year from the date of use. In terms of return and exchange, if the product is not used within the specified period after purchase, it can get a full refund; if the passenger is not bound within 15 days after purchase or the ticket is not reserved within 90 days after binding, the product will be invalid and the money will be automatically returned to the buyer.
In the class exchange mode, China Eastern Airlines stipulates that economy class is 1 time of the route distance, super economy class is 1.5 times, business class is 2 times, luxury business class and first class is 4 times, passengers can enjoy regular membership courtesy, platinum card members can enjoy domestic free upgrade courtesy. At the same time, China Eastern also launched the mileage query function area when it launched its products. For example, the mileage between Shanghai Hongqiao Airport and Beijing Capital Airport is 1088 km, and that between Shanghai Hongqiao Airport and Guangzhou Baiyun Airport is 1210 km. It is worth mentioning that the online announcement of China Eastern Airlines also shows that this product has applied for a patent, and whether other airlines can copy and follow up in the future remains to be seen.
In fact, compared with the previous "xinxinfei" products, this product of China Eastern Airlines is more like pre-sale mileage. During the epidemic period, in order to obtain valuable cash flow, United Airlines increased the discount of mileage products. It can buy 170000 miles of mileage products at a cost of about 20000 yuan, and some mileage is extra free.
Wang Jiangmin, senior economist of civil aviation, told Beijing Business Daily that different from the flying distance, the mileage has a clear calculation mode, which basically will not change. "Airlines are still in the recovery stage, and still need to innovate products to stimulate market vitality and relieve cash flow pressure. This time, China Eastern's Li program products are more suitable for business passengers to and from twin cities, and the positioning has been reduced and refined, which is also more in line with the current recovery situation of airlines. " Wang said, "however, it should also be noted that the booking time of business travelers is usually not fixed, but the longest booking time of this product of China Eastern Airlines is up to one month, so the itinerary planning needs to be determined in advance; the price of products with flexible booking time is relatively high, so how much traffic can be attracted remains to be seen."
However, similar to "xinxinfei", this mileage product may also have problems of poor exchange and insufficient exchange quantity. Usually, when there is a conflict between cash tickets and mileage tickets, airlines tend to choose cash tickets first. In addition, experts from the industry also suggested that many "flying in the air" products make complaints about consumers' problems such as exchange and so on. In the future, when airlines launch such products, they need to ensure that consumers can fully enjoy their rights and interests in order to gain market favor.
In addition, the follow-up application of "future model" of China Eastern Airlines has become a "follow-up product" in the industry.
Beijing Business News (reporter Xiao Wei, Yang Hui)
[the above content is transferred from "Beijing Business Daily website", which does not represent the view of this website. If you need to reprint it, please get permission from the website of Beijing business daily. If there is any infringement, please contact to delete it. 】
0