In recent years, with the continuous improvement of economic income and purchasing power, women's consumption power is becoming stronger and stronger. As the most active group in the field of consumption, more and more women put drinking into their lives, and alcohol products are becoming a must in women's shopping carts. Recently, the white paper on online consumption of 2021 liquor (hereinafter referred to as the white paper) released by Jingdong supermarket shows us the "little secret" between women and liquor: contemporary women are more enthusiastic about sweet and sparkling liquor, and low alcohol is more popular among them.
According to the report data released by Accenture, China has 400 million female consumers aged 20-60, who control as much as 10 trillion of consumption expenditure every year. "She economy" has become the current consumer of various industries.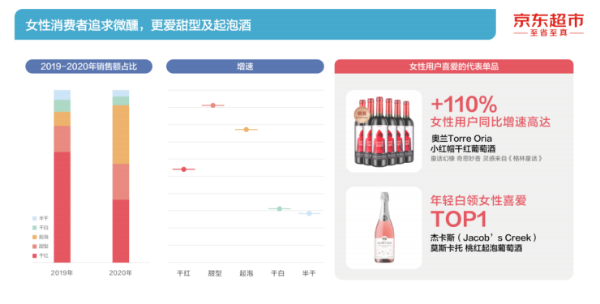 According to the analysis of the white paper, different from the male users' demand for high alcohol and strong liquor, female consumers prefer to feel slightly drunk, which has driven the popularity of low alcohol liquor. Among them, sweet wine and sparkling wine were the most popular, while the demand for liqueur, sake / Shaojiu and fruit wine increased significantly. According to the sales data of Jingdong supermarket, the growth rate of female users of olan Torre Oria dry red wine with strong fruit flavor and inspired by "Green's fairy tales" is as high as 110% year-on-year, while Jacob's Creek Moscato pink sparkling wine is more popular with young female white-collar workers.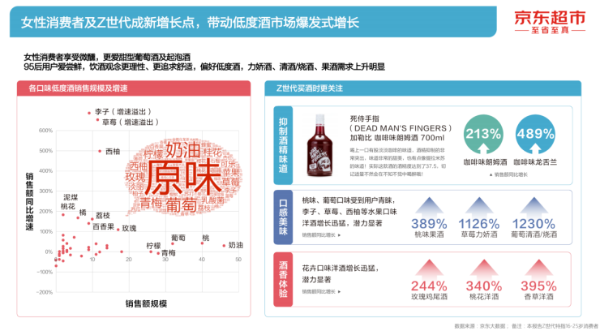 In the taste choice of low alcohol wine, female consumers prefer to taste fresh, they prefer the original taste, cream, grape, green plum and other fresh taste. When buying wine products, female consumers pay more attention to the inhibition of alcohol taste, taste and aroma experience. Among them, the sales of coffee tequila with low alcohol flavor increased by 489% year-on-year; peach flavor and grape flavor were favored by users; plum, strawberry, grapefruit and other fruit flavor foreign wine increased rapidly, with significant potential. The sales of peach flavor fruit wine increased by 389% year-on-year, strawberry Lijiao wine by 1126% year-on-year, and the sales of grape sake / Shaojiu increased by 12.3 times year-on-year; flower flavor foreign wine increased rapidly, with great potential The sales of Rose Cocktail, peach blossom wine and vanilla wine increased by 244%, 340% and 395%, respectively.
Under the background of the change of the times and the rising of "she economy", the upgrading of the consumer market and the segmentation of wine product positioning and service make the importance of female consumers increasingly prominent. In the future, Jingdong supermarket will continue to join hands with many brands to bring more rich and diversified products for the majority of female users and enhance the sense of shopping.
0