Two years after its first store in Beijing, T11 fresh food supermarket finally went out of Beijing. On April 7, a reporter from Beijing business daily noticed that T11 fresh supermarket opened two stores in Shanghai and Wuhan one after another. This is also the first time since the establishment of T11 to go out of Beijing and open stores in other provinces and cities. However, after the epidemic, as the fastest growing segment of supermarket format, community fresh food has also become a new position for the retail industry. In addition, Internet giants are also carrying a lot of capital into the field. In this multi industry and multi format fresh track, how many opportunities are left for the rising star T11?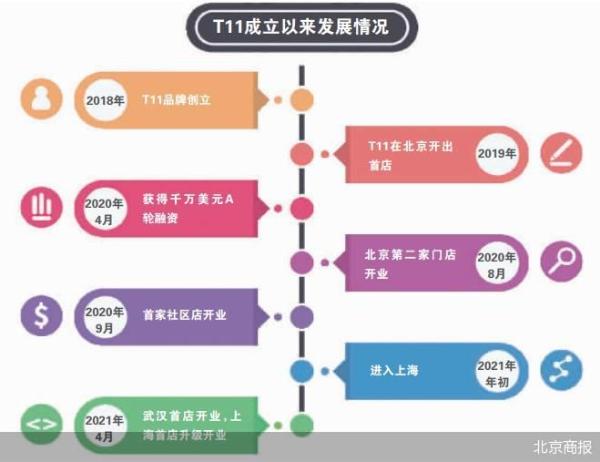 Going out of the capital and connecting the next two cities
T11 fresh supermarket began to expand to other provinces and cities, Wuhan and Shanghai became its first stop.
It is understood that T11 fresh supermarket Wuhan Henglong Plaza store has officially opened on April 1. From the perspective of store location, T11 Wuhan store still continues its high-end supermarket positioning.
T11 said that Wuhan Henglong was chosen as the first stop of central China's regional layout, not only because of its highly matched target customers, mature professional management and operation ability and high brand influence, but also because of Wuhan's unique strategic position in China's retail industry.
The first store in Shanghai was the store on Gubei Road, Yonghui, Shangshu, which T11 took over at the beginning of this year, but only part of the area was open at that time. The official account of T11 fresh supermarket shows that the online business of T11 fresh supermarket Gubei Road starts in March 30th, and the offline stores will be reopened in April 16th.
It is understood that when Shanghai vegetable Yonghui applied for bankruptcy liquidation at the end of last year, there was news that T11 fresh supermarket planned to purchase part of the store assets of Shanghai vegetable Yonghui. However, the relevant person in charge of T11 told Beijing Business Daily that there was no acquisition in fact, but some stores that might cooperate were discussed.
According to the above-mentioned person in charge, the stores will be mainly opened in Wuhan and Shanghai this year, and Beijing will continue to open new stores in the future, and the types of stores will be mainly large stores. At the same time, it will take the form of large stores + small stores to expand steadily.
Rely on capital transfusion
T11 brand was founded in 2018, and its founder Du Yong was the operator of fresh supermarket 7fresh of Jingdong. In 2019, T11 will open its first store in Beijing, covering an area of 4000-5000 square meters. The supermarket includes fresh food, daily necessities, cooked food, drinks, catering and other categories.
At that time, it was just when new retails were constantly bumping into the wall, new retails such as HEMA and 7fresh were constantly adjusting. However, the new T11 model of retail + catering and Online + offline is not optimistic by the outside world. At the same time, the problem of high supply chain capacity and operating costs has also aroused doubts in the industry.
But T11 doesn't think so. According to Du Yong's assumption, T11 supermarket is not targeted at supermarkets, but the top companies in every vertical category. Therefore, T11 now all kinds of modules, including baking, catering, beauty, flowers, etc., are self-employed to establish T11 style standards for long-term layout.
In more than a year after the above ideas and plans came into being, T11 did not make any major moves.
After nearly a year of polishing, in April 2020, T11 announced the completion of ten million US dollars of financing, at the same time, it also disclosed the achievements of the past year. According to the data, T11 fresh supermarket has more than 135000 active customers, mainly concentrated in Chaoyang Park, with a radius of 3 kilometers and a unit price of more than 180 yuan. At present, there are nearly 7000 SKUs in Chaoyang Park of T11 fresh supermarket, and fresh food sales account for more than 65%.
With the capital's blessing, T11 naturally began to expand. It is understood that in August 2020, the second store of T11, Guanghua Xincheng store, opened; in September of the same year, the first community store of T11 fresh supermarket officially opened in Beijing Olympic city. In addition, in the first store of T11, Junhao Central Plaza store opened its first T11 convenience store near the subway entrance; in June 2020, t Melo, the first beauty eco store of T11, officially opened.
Do middle and high end consumers pay the bill
According to retail expert Hu Chuncai, at present, there are many retail formats, such as fresh food in the community, fresh food monopoly stores and community group buying. As a latecomer, it is still more difficult to go straight to the market. T11 chooses this kind of high-end positioning to attract consumers who are different from other formats.
"Its positioning can be determined by whether it can really land and develop continuously. It should be noted that the operation of such high-end supermarkets is very difficult. At the same time, it also puts forward high requirements for the supply chain and distribution behind it. " Hu Chuncai said.
It is worth noting that as the fastest growing segment of supermarket format, community fresh food has also become a new position for retail industry. In addition, Internet giants are also carrying a lot of capital into the field. In particular, Alibaba, Tencent, Jingdong, meituan, pinduoduo and other major Internet giants have invested heavily in community pintuan, and the customers of major stores and supermarkets have been cut off by the community business, resulting in the continuous decline of performance.
In this regard, the relevant person in charge of T11 said that the route of T11 is not the same as that of community group buying and community supermarket. T11 is mainly based on the online + offline mode, and its advantages are different from the pure internet mode. In fact, the whole retail industry needs a variety of forms to coexist, and each form will have its own market and user group. Although some user groups will overlap, it has not caused much impact.
Gong Yinquan, the founder of lean retail theory, believes that with the vigorous development of community retail, manufacturing retail enterprises will become a necessary measure to deal with the fierce competition in China's retail industry in the future. As long as enterprises focus on commodity development and continue to develop high-quality and low-cost goods and services, they can form customer loyalty to the brand through the advantage of differentiated competition.
Zhao Chi, a reporter from Beijing Business Daily
[the above content is transferred from "Beijing Business Daily website", which does not represent the view of this website. If you need to reprint it, please get permission from the website of Beijing business daily. If there is any infringement, please contact to delete it. 】
0