A mouthful of fresh and delicious spring tea is an indispensable expectation for many people, and more and more young people fall in love with tea. On April 7, Jingdong supermarket and China Tea Circulation Association (hereinafter referred to as "China Tea Association") signed a five-year strategic cooperation agreement. According to the "Jingdong tea consumer trend" released at the signing ceremony, Jingdong tea consumers are showing a trend of youth, high education, high income and high consumption, and the main online tea consumers are gradually expanding from middle-aged and old to young groups . Consumers, especially young consumers, are more willing to buy tea online.
All along, Jingdong supermarket is committed to building a bridge between users and tea origin to meet consumers' personalized tea tasting needs. In this strategic cooperation with China Tea Association, the two sides will carry out extensive cooperation in cluster building, brand cultivation, data construction, activity cooperation, promotion and publicity, helping farmers increase income, resource support, etc., give full play to the advantages of e-commerce platform, cultivate national famous tea brands, and provide consumers with high-quality and personalized consumption experience.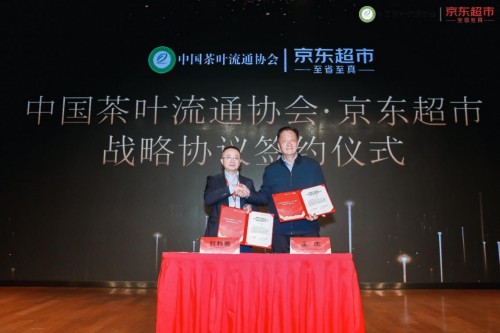 Create industrial clusters, cultivate well-known brands and impress consumers with stable quality
For tea lovers, excellent quality is always the pursuit of tea tasting. Taking famous tea Longjing as the representative, according to the "2021 spring tea consumption trend report" released by the former Jingdong big data research institute, during the Spring Tea Festival of Jingdong supermarket, the sales volume of Longjing increased by nearly 400% on a month on month basis; the reservation volume of high-end West Lake Longjing with a unit price of 10000 yuan accounted for 18%, up 12% on a year-on-year basis. With the increase of the proportion of consumers who purchase tea through the online platform, tea lovers can have a more direct "dialogue" with tea producing areas relying on the online purchase channel. Jingdong supermarket and China Tea Association will build an industrial cluster to gather the leading enterprises in the industry and send the tea varieties from different producing areas to the tea cups of consumers.
From the perspective of consumers, brand is the guarantee of taste and texture to a certain extent. Therefore, Jingdong supermarket and China Tea Association will make joint efforts in brand cultivation, jointly build exclusive brand cultivation scheme, and give support to operation training, special publicity, recommendation activities, etc. With the powerful e-commerce ability of agricultural products and efficient logistics network of Jingdong supermarket, consumers and tea brands will establish a smooth, convenient, efficient and stable docking platform.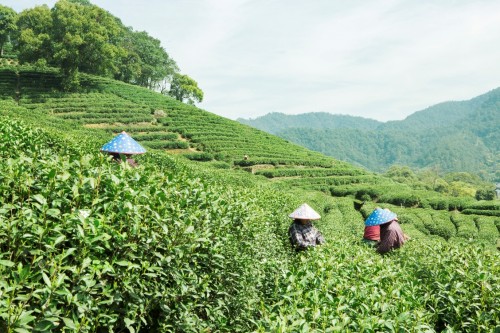 In addition, Jingdong supermarket will join hands with China Tea Association to provide consumers with Jingdong Tea Festival, China Tea Association Exhibition, tea industry economic annual meeting and other activities to jointly promote the vigorous development of tea market and provide users with rich and colorful tea tasting activities. In addition, Jingdong, together with China Tea Association and CCTV, will launch the "China tea brand plan" to promote tea brands in various regions of the country, and launch new tea products recommendation and release activities in spring and autumn, so that consumers can enjoy the special tea from all over the country. In this process, poor tea producing areas will also broaden sales channels to help tea farmers increase production and income.
More than 100 live shows of Spring Tea Festival in more categories
Since the opening of this year's Spring Tea Festival in Jingdong supermarket, it has been welcomed by consumers again. As soon as high-quality spring tea such as Xihu Longjing, Zhuyeqing and Huangshan Maofeng come into the market, it will usher in a sales peak. With the introduction of Xinyang Maojian, Lu'an Guapian and other well-known products, the popularity of the Spring Tea Festival in Jingdong supermarket is constantly improving. In order to make consumers feel the characteristics of high-quality spring tea more intuitively, on April 7, Jingdong supermarket opened the tea category live broadcast day.
On the day of the live broadcast, not only the strategic signing ceremony between Jingdong supermarket and China tea association was broadcast live, but also a number of tea masters were gathered to recommend different kinds and brands of spring tea, brands such as Lu Zhenghao and zhengshantang brought consumers into the origin, and tea enterprise leaders such as wuyixing and Qian Hengde appeared in the live broadcast room. More than 100 live shows show the characteristics and advantages of spring tea from various angles, and give back to tea loving consumers with a large amount of high-quality tea.
The strategic cooperation between Jingdong supermarket and China Tea Association is also to further bring trustworthy goods and services to consumers, so that people can understand and taste tea more deeply. As Liu Lizhen, vice president of Jingdong group and President of Jingdong retail consumer goods division, said, "Jingdong supermarket always adheres to the concept of good quality tea, hoping to make it easier and more direct for consumers to buy real good quality tea and help carry forward Chinese tea culture."
0