After BeiCang was blocked offline, Beibei group launched a new platform called Ximei. Recently, a Beijing Business Daily reporter found that the brands introduced by Ximei are all private brands of domestic OEM, including Adela, shuimenglu, etc. in addition, there are private brands launched by Beibei, which mainly focus on high-end market. However, there are still doubts about this move. According to a person familiar with the matter, due to the inability of the member systems among the platforms, the enthusiasm of shopkeepers to sell goods continues to decline. Beibei's new business is just to rescue the group's weak old business. Not only that, low price is the foundation of private distribution. Besides, Ximei is mostly a domestic brand, and its future is full of fog.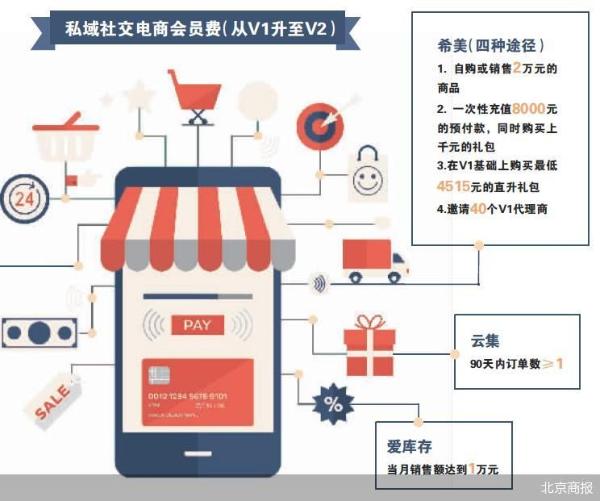 New high end platform
After opening four platforms, Beibei group has added a new platform. Beijing Business Daily reporter found that currently Ximei has introduced domestic brands such as shuimenglu, andera, aoerli and Anshu, and the main categories are cosmetics, nutrition products and daily care products. Secondly, the brand list also includes Beibei's "Beibei" private brand, covering 22 products such as diapers, bath maintenance, baby tableware, etc.
In terms of price, Ximei is positioned as a high-end product. Beijing Business Daily reporter found that, for example, the price of a 6-bottle nutrition substitute milkshake from aoerli is 199 yuan, while on some e-commerce platforms, the price of a 6-bottle nutrition substitute milkshake from wonderlab is 139 yuan. 6 bottles of Smal Noto probiotic meal substitute milkshakes cost 149 yuan. In addition, the price of other categories of Ximei, such as cosmetics, is about 100-400 yuan.
In the early stage of platform construction, Ximei is relying on Beibei group's social e-commerce Beidian for drainage. On the main page of Beidian, users are attracted to jump to Ximei platform by "must buy popular products, the second one is half price". If users want to enter Ximei app, they need to enter the invitation code. The invitation code of Beidian is also applicable to Ximei. However, according to the staff, Ximei's membership system and Beidian are independent. What's quite different from bringing goods on Beidian platform is that if you don't become a member of Ximei, the shopkeeper of Ximei will sell every order without commission.
High membership fees
As the platform mainly sells high-end products, in fact, the Commission level is not low. In a document entitled "interpretation of Ximei agent mechanism 2021", a reporter from Beijing business daily saw that users need to become members to get discount income, that is, commission. Different products have different discounts. Take a 499 yuan shuimenglu anti wrinkle box as an example, if VIP users sell a product, they can enjoy a discount of 8.50% on the price of the product, which means they can get a commission of 74.85 yuan. The Commission of diamond users can reach 224.55 yuan.
There is no doubt that the higher the Commission, the more attractive it will be to customers. However, if you want to become a member of Ximei, you have to pay a lot of real money. Beijing Business Daily reporter learned that if users want to become Platinum members and enjoy a 6.50% discount, they either need to buy a minimum 4515 yuan helicopter gift bag in the platinum helicopter zone, or they need to buy or sell 20000 yuan of goods by themselves. The same is true for Diamond members of the highest level, who require the amount of goods purchased or sold by users to be increased to 60000 yuan.
In the face of Beijing Business Daily reporter mentioned that the membership threshold is too high, the platform staff said that at present, the platform has also launched a 0 threshold agent model. Platinum members need to recharge 8000 yuan in advance, while Diamond members need to recharge 30000 yuan. "If you buy or sell one order, you will unlock the money of one order." He added. In addition, users have to buy thousands of yuan gift package products.
Is it reasonable to charge high membership fees as soon as the new platform comes? Li Chengdong, an e-commerce analyst, said that the platform's membership system is mainly to enhance the user's stickiness and improve the re purchase rate of goods. Just like offline retail stores, it binds users with annual cards, monthly cards and other forms, and at the same time, it gives consumer discounts. As long as it gives equivalent services, there is no problem in charging membership fees.
However, compared with other social e-businesses, Ximei's membership threshold is obviously higher. Beijing Business Daily reporter found that in the cluster, the diamond membership level is closely related to the number of orders within the time limit. For example, if more than 50 orders are sold in 90 days, it can reach the VIP6 level. And social e-commerce love inventory measures membership level by sales. To upgrade to vip2, the shopkeeper needs to sell 10000 yuan. And in Ximei's same membership level, if you don't choose to pay in advance, the owner's sales need to reach 20000 yuan.
Business meets bottleneck
So, why does Beibei group launch Ximei platform at this node? Does it symbolize the group's "second venture"? In this regard, the relevant person in charge of Beibei group did not respond to the Beijing Business Daily reporter. A shopkeeper who has been operating on Beibei group's platform for many years revealed that Beibei group set up Ximei mainly because of the poor performance of its old business, so it began to build a new platform to seek performance growth. Ximei platform's mode is factory OEM products, and the company carries out OEM.
Data show that in March 2020, Beibei group reported large-scale layoffs. At that time, a large number of media reports said that employees disclosed that on March 27, Beibei group laid off about 200 employees, involving beibei.com, BeiCang, Beidian and other businesses. The relevant person in charge of Beibei denied the number of layoffs, saying that about 5% of the employees whose performance was not up to the standard were optimized, that is, about 50 people.
It is understood that Beidian and BeiCang are the social e-commerce and special e-commerce platforms launched by Beibei group in 2017 and 2019 respectively. In addition, Beibei group's business also includes Beibei, a mother and child e-commerce company, and Beisheng, a shopping guide rebate platform.
"Last year, not only the company's employees left, but many owners of platforms like Beidian and BeiCang also left. The advantage of commodity price and commission of the platform is getting weaker and weaker, and the company's old business is mainly maintenance oriented," said the above-mentioned owner. "Beidian and BeiCang, including Ximei, have their own independent membership systems, so it will be more difficult for the owners to bring in the goods, which also means that the customers have to pay more attention The group has to open new accounts and continue to develop customers on the new platform, but how many people are willing to re register? "
Although last year's epidemic has made private domain traffic hot again, with the normalization of epidemic prevention and control, some social e-commerce platforms began to adjust their strategies, such as canceling the delivery threshold, or building a public domain platform for drainage to enhance the enthusiasm of shopkeepers. At the same time, the "routine" of rough selling has begun to fail in recent years. Lu ZHENWANG, an e-commerce analyst, believes that today's platform reduces the threshold of bringing goods, coupled with the private domain traffic of brands themselves, consumers can directly reach the brand through small programs, which will weaken the attraction of private bringing goods. Therefore, in recent years, it has become easier and more difficult to bring goods in the private domain.
A shopkeeper who has been carrying goods on the platform for more than a year told Beijing Business Daily that the attraction of simply sending graphic links to carry goods is getting lower and lower, and the conversion rate is also declining. Therefore, only by building a personal brand and forming a strong trust relationship with customers can it continue.
Beijing Business Daily reporter Zhao Qian
[the above content is transferred from "Beijing Business Daily website", which does not represent the view of this website. If you need to reprint it, please get permission from the website of Beijing business daily. If there is any infringement, please contact to delete it. 】
0