Driving China's news on April 15, 2021, Xiaomi, who has refuted rumors for several times, has finally expanded its business to the field of car manufacturing. It seems that intelligence is really a good business. Even with the example of Jia Yueting of LETV, it has not been able to hinder the new power like Xiaomi. Now it is said that Skyworth, a color TV giant, is going to cross the border of intelligent cars.
According to the official news, Skyworth TV microblog said on April 13: "once again, the future of Skyworth smart car is the future of Skyworth.". Although only a few words, but no doubt also revealed the heavy news to the outside world, color TV giant this is to become a new face in the field of car manufacturing.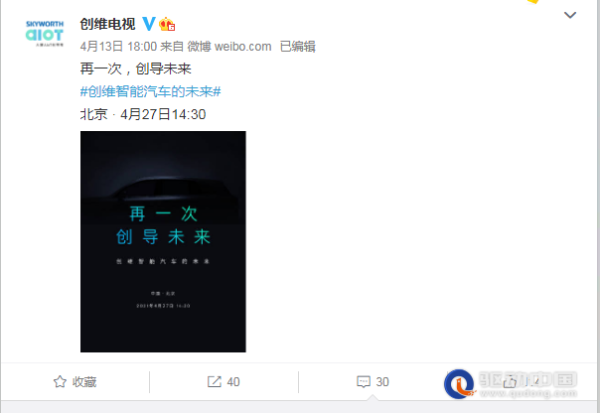 As a matter of fact, when it comes to making cars by color TV manufacturers, there were LETV before, and then such heavyweight players as Xiaomi and Huawei. Now that Skyworth has joined, it's not surprising that consumers have seen it. Compared with LETV and Xiaomi, Huawei is committed to becoming a supplier of intelligent car parts. It wants to make products such as Internet of vehicles, intelligent cockpit and intelligent power system. So in what form will Skyworth enter the automobile market? This is clearly worth paying attention to.
Speaking of this, we need to mention Huang Hongsheng, founder of Skyworth.
As early as 2010, Huang Hongsheng, founder of Skyworth, funded the establishment of Kaiwo New Energy Automobile Group Co., Ltd., which independently researched and developed the battery, motor and electronic control "three electric" core technology of new energy bus, and obtained the passenger car access qualification approved by the Ministry of industry and information technology in 2017. In November 2019, KaVo new energy automobile group also established Tianmei automobile brand.
It is worth mentioning that in October 2020, Tianmei automobile brand also launched Tianmei et5, providing consumers with four versions of endurance models. The low configuration has a endurance of 410 km and the high configuration has a endurance of 520 km. It is understood that the biggest attraction of Tianmei et5 car is to be able to connect with Skyworth smart home, control it through app, and turn on the air conditioner before people get on the car.
That is to say, Skyworth has accumulated rich family background and experience from the beginning, and is a proper "rich second generation". Can Skyworth make waves in the market? Let time give us the answer.
0