After winning the payment license, Huawei's financial business has always been the focus of the industry. On April 14, Huawei reported a new trend in its payment business layout. The company publicly responded that it has no plan to enter the payment market at present.
Low key is the industry's consistent evaluation of Huawei's financial business layout. From the perspective of its financial license, in addition to the recently obtained payment license, there is only one local small loan license with little news. However, a mobile phone industry practitioner told Beijing Business Daily that for mobile phone manufacturers, financial business is indeed the best choice for cash flow under the "natural" traffic blessing of users and suppliers.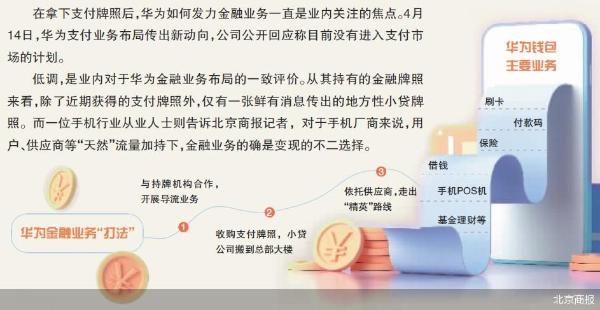 Do not enter the payment market
On April 14, several media reported that at the Huawei analysts' meeting held from April 12 to 14, Cao Chong, President of BG global financial business department of Huawei, said publicly that Huawei has no plans to enter the payment market at present. In the financial field, Huawei's core is still around ICT (information and communication technology) technology, which is applied to the digital transformation of financial customers and the digital empowerment of the industry.
Previously, on March 25, Shenzhen xunlian intelligent payment network Co., Ltd., a third-party payment institution, underwent industrial and commercial changes, with Huawei holding 100% of the shares as its sole shareholder. In fact, Huawei has a long history in its payment business. Huawei pay was launched as early as August 2016 and built into Huawei wallet, which mainly provides mobile payment and e-wallet services for Huawei mobile phone users. As a built-in and indelible application on Huawei mobile phone, Huawei wallet also provides users with various financial services after many updates.
A reporter from Beijing business daily saw in Huawei's wallet that in addition to payment related services such as swiping cards and payment codes, Huawei also provides users with insurance, borrowing money, transportation, credit cards, mobile POS machines and other services.
In the loan business segment, Huawei's service groups include individual users and small and micro businesses. The consumer credit business products for individual users mainly include Du Xiaoman Qianhua, Suning wayward loan, suixinhua of Bank of Nanjing, Ping'an smart loan of Ping'an bank, etc., with the loan amount of 50000-200000 yuan. The exclusive product of small and micro businesses is Longshang loan of Huaxia Bank, with the maximum credit line of 300000 yuan.
The mobile POS service is launched by Huawei in cooperation with third-party payment institutions such as Tonglian payment and lakara. According to the tips on the page, after the merchant completes the registration, it can complete the bill collection work with Huawei mobile phone, without external equipment. In the "change" business segment, Huawei cooperates with a number of banks to provide users with credit card repayment, fund management, loan and other services. In addition, Huawei has launched the exclusive bank co branded credit card Huawei card.
Yu Baicheng, President of zero one research institute, said that many businesses in Huawei's wallet have appeared in the form of banks, and the relevant payment business is also carried out through banks. After winning the payment license, on the one hand, it can save the high transaction settlement fee cost, on the other hand, it is also conducive to Huawei's accumulation of user payment data. Huawei's other financial businesses also adopt the mode of cooperation with institutions, because it does not have the qualification to carry out the corresponding business.
The layout of license plate is not perfect
As Yu Baicheng said, Huawei's financial business is restricted by its license. Compared with the accelerated expansion of other mobile phone manufacturers in the financial field, Huawei is particularly cautious on the financial road.
From the perspective of financial services provided by Huawei wallet, whether it is payment, loan or insurance business, Huawei wallet does not have Huawei's own products, but adopts the mode of diversion for other platforms. At the same time, in terms of diversion, Huawei chooses a relatively fixed partner, all of which are provided by licensed institutions. On the relevant display page of the loan business, Huawei wallet also prompts the user, "the above services will jump to the third-party loan platform, and Huawei wallet will not participate in your loan business.".
A reporter from Beijing Business Daily found that, in addition to the payment license just obtained recently, Huawei has only one local small loan license with little news, that is, its subsidiary, Shenzhen Huayi loan small loan Co., Ltd. (hereinafter referred to as "Huayi loan").
At present, Huayi loan has no official website and product information. However, from the perspective of industrial and commercial information change of Huayi loan, Huayi loan is not the "abandoned son" speculated by the outside world. According to the national enterprise credit information publicity network, Huayi loan was established in March 2017 with an initial registered capital of 1 billion yuan, and increased to 3 billion yuan in July 2019. In February 2021, Huayi loan moved into Huawei headquarters office building in Longgang District, Shenzhen.
According to Wang Peng, assistant professor of Renmin University of China, Huawei has the foundation to carry out financial business in terms of its current business scale, number of users and industry influence, and it is not difficult to obtain the corresponding financial license.
Wang Peng pointed out that if Huawei can provide digital services after improving its financial layout, it will also be of great benefit to its performance growth.
Finance is considered to be one of the best liquidity channels. A mobile phone industry practitioner told Beijing Business Daily that for mobile phone manufacturers, it is necessary and advantageous to do finance after changing the past manufacturers' thinking. Under the "natural" flow blessing of suppliers and users, it is natural for the supply chain finance for suppliers or consumer credit products for individual users to realize business cash.
The aforementioned industry personage also disclosed to Beijing Business Daily that in the supply chain finance of mobile phone industry, downstream mobile phone dealers can obtain mobile phones from manufacturers without spending money. "For mobile phone manufacturers, they don't have to worry about the cost of default. What they give out is the mobile phone, and what they return is cash."
Aiming at digital RMB?
As for which businesses in Huawei's wallet will be mainly affected by the payment license, and how about the current performance of Huayi loan, a reporter from Beijing Business Daily has a further understanding of Huayi, but as of press release, no reply has been received from the other party.
In recent years, financial business has become the standard configuration of traffic platform, and it is common for mobile phone manufacturers to do financial business in the industry. According to the people in the industry mentioned above, the initial purpose of mobile phone manufacturers to carry out supply chain finance is to help customers eliminate inventory, improve the order conversion rate, and make the whole industrial chain run faster. "But after opening this link, they can really sell mobile phones and make money. At present, the average price of mobile phones sold by several leading mobile phone manufacturers is about 3000 yuan. The profit from selling a mobile phone is almost the same as that from a user's loan, and the user can continue to generate income from repeated loans. ".
According to the aforementioned industry sources, the four leading mobile phone manufacturers in the industry, including Huawei, have different ways of playing in the supply chain financial business. As the upstream of the industry, mobile phone parts manufacturers have no special differences.
"For the downstream mobile phone dealers, some manufacturers pay attention to sinking, and some rely on the Internet, while Huawei takes the" elite "route." The aforementioned industry insiders pointed out that compared with other friendly businesses, they provide loans to all dealers in a small and decentralized way. Huawei only provides services to some head dealers and may usually offer higher loan lines.
On the other hand, Beijing business daily noted that in October 2020, Huawei launched mate 40 series mobile phones supporting the function of "digital RMB hardware wallet", which also gave the industry more speculation about Huawei's acquisition of payment license. After announcing that it will not enter the payment market, some people in the industry believe that Huawei is aiming at the new track of digital RMB.
"However, from the perspective of financial business layout, Huawei also has some disadvantages." Wang Peng believes that, first, under the regulatory environment and the background of strong supervision of financial business, Huawei will face a great test to regain its financial license and carry out its business; second, Huawei's current scene layout is basically blank in the field of life services; third, as a hardware enterprise, if it wants to lay out its financial business, Huawei needs to improve its current business architecture More flexible adjustment.
Wang Peng further stressed that for the pattern of Huawei, its development itself is not limited to the main business itself, but more to improve the industrial chain and form its own industrial empire. The value of payment license is not only the payment business itself, but also plays an important role in building Huawei's overall business ecology.
Beijing Business Daily reporter Yue Pinyu and Liao Meng
[the above content is transferred from "Beijing Business Daily website", which does not represent the view of this website. If you need to reprint it, please get permission from the website of Beijing business daily. If there is any infringement, please contact to delete it. 】
0