On April 19, 2021 Shanghai auto show officially opened. But before the start, many car companies can't wait to release their new cars in advance and rush to the "Shanghai beach". Geely krypton 001, Ford Mustang mach-e, BAIC polar fox alpha s, Mercedes Benz EQS and other heavyweight electric vehicles have launched pre-sale or officially launched on the eve of the auto show, involving independent brands, joint venture brands, luxury brands and new forces of car manufacturing. With the launch of many new cars, focusing on the direction of new energy, the "war" of 2021 Shanghai auto show has started ahead of schedule.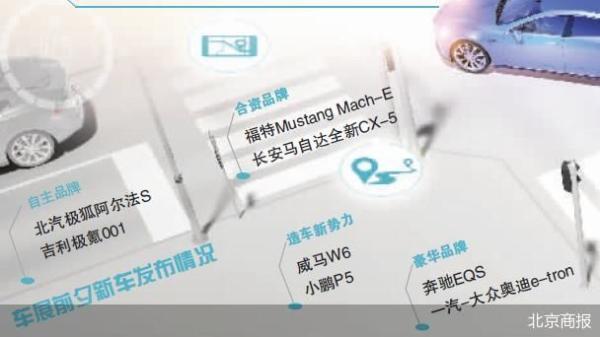 Middle and high end new energy market scuffle
Tesla Model 3's sales in China are rising, which also shows the huge potential of domestic 200000-400000 yuan high-end new energy vehicle market. Therefore, on the eve of this year's Shanghai auto show, some independent brands and joint venture brands also aim at this market and launch new electric vehicles.
On the evening of April 15, Geely's brand new pure electric brand krypton officially completed the brand launch, and the brand's first mass production model krypton 001 also started booking. After subsidy, the price range was 281000-360000 yuan, and delivery was started before October 1. On April 16, another high-end brand of Geely, linker, officially released its new plug-in hybrid linker 05 PHEV and started pre-sale with a pre-sale price of 230000 yuan.
"In recent years, Geely's overall sales volume has been ranked first among its own brands, but the new energy sector is relatively weak, inferior to BYD and other competitors. In this case, Geely will put the release time of heavy electric vehicle models before this year's Shanghai auto show, which is conducive to obtaining higher attention. " Zhang Xiang, an auto industry analyst, said.
In fact, Geely is not the only independent brand that has chosen to put the launch time of new electric vehicles on the eve of the auto show. On April 16, the brand new W6 model of Weima automobile was officially launched, with a total of five models, including 520km and 620km models, with a subsidy price of RMB 169800-259800.
As one of the new car building forces, Weima automobile is located in the second echelon of the industry, with sales volume lower than that of Weilai, and basically in the same range as Xiaopeng and ideal. According to the data, last year, Weilai, ideal, Xiaopeng and Weima delivered 43700, 32600, 27000 and 22400 new cars respectively.
In addition to independent brands, some foreign brands also choose to launch heavy models on the eve of Shanghai auto show. On April 13, Ford's medium-sized pure electric SUV Mustang mach-e started pre-sale in China, with a price range of 265000-379900 yuan. This pure electric SUV based on Ford's world's first high-performance pure electric platform will be produced by Changan Ford, and the benchmark model is Tesla Model y. In recent years, Ford has not developed smoothly in China. For Mustang mach-e listed this time, Ford China has high hopes and plans to build a separate exhibition hall for it and sell it directly. It is understood that Ford China will open Mustang mach-e city direct experience stores in 20 core cities in China this year.
It is worth mentioning that while brands are competing to show their "muscles" on the eve of Shanghai auto show, some new cars of auto companies have also aroused doubts. Among them, Mazda, which has been absent in the field of new energy vehicles, finally made its debut on April 17 with its first pure electric car, Chang'an Mazda cx-30ev. It is understood that the range of this model is 450 km. However, in the case that the electrification platform architecture has become the direction of many new energy vehicles, the cx-30ev of Chang'an Mazda, which is based on the fuel model, still continues the idea of "replacing oil with electricity" and becomes the "slot point". Industry insiders believe that this model is more like Mazda's transitional product for balancing the "double points" policy.
Automatic driving station position C
Although automatic driving (auxiliary driving) has become a hot area for car companies, few models have taken automatic driving as the core selling point before. But on the eve of this year's Shanghai auto show, new cars focusing on high-level automatic driving function began to emerge.
On April 17, the world's first mass production model carrying 3 lidar, alpha s Huawei Hi, jointly built by Jihu and Huawei, was officially unveiled. It is divided into basic version and high-level version, with pre-sale prices of 388900 yuan and 429900 yuan respectively.
It is understood that Alfa S HUAWEI HI version of the HUAWEI ADS high level autopilot system, HUAWEI has the highest level of automatic driving ability, can achieve the whole process of the vehicle's own judgement of road conditions and automatic driving, in the actual road, unlimited access to manual driving, providing direct, left turn, unprotected turn and other functions.
It is worth noting that if Alfa S can deliver mass production before Tesla FSD is officially released, it will become the world's first mass production vehicle with automatic city driving capability. HUAWEI ADS will also be the first city automatic driving system to achieve mass production application in the world.
Coincidentally, on April 14, Xiaopeng P5, the world's first mass-produced lidar intelligent car, was officially released. With the help of the hardware solution of 32 sensors and a group of high precision positioning unit (GNSS + IMU), Xiaopeng P5 can support the vehicle to realize xpilot 3.5 automatic driving assistance.
In addition, Weima W6, which launched on April 16, also claims to be the first to realize L4 level driverless. According to the official introduction, Weima W6 has two abilities: havp (autonomous learning parking) and pavp (high-precision map parking). Havp is suitable for fixed parking spaces such as residential buildings and companies, and vehicles can find their own way to park only once.
Shen Hui, founder of Weima automobile, revealed that the company has started the L5 limited scene automatic driving project, and will realize the L5 level unmanned driving in some scenes next year. Weima users will be able to experience the L5 level unmanned driving in limited scenes through new product carrying and OTA push.
Behind the competition of auto companies for "automatic driving license", is the accelerated maturity of this field. CICC recently released a report saying that with the dividends of technological progress such as computing chips, core sensors and high-precision maps, the commercialization process of high-level automatic driving has been accelerated, and it is expected that it will be implemented in scenarios such as commercial vehicles on expressways and urban passenger cars.
Mercedes Benz Audi racing pure electric transformation
Not only independent brands and joint venture brands, but also luxury brands such as Mercedes Benz and Audi make frequent moves on the eve of Shanghai auto show, aiming to speed up the electric transformation by launching new models.
On April 16, Mercedes Benz EQS was officially released. As the flagship model of Mercedes Benz EQ family, EQS is positioned as a pure electric large vehicle. It is the first model built for Mercedes Benz's new EVA platform, equipped with a new "mbux hyperscreen" system, and the wlpt range is 770 km.
As a first-line luxury brand, Mercedes Benz's layout in China's pure electric vehicle market is still in its infancy. In November 2019, Mercedes Benz officially launched its first pure electric vehicle EQC in the Chinese market. However, so far, Mercedes Benz has not disclosed the sales data of EQC.
According to the plan, from this year, Mercedes Benz's AMG, Maybach and G-class cars will all launch new electric models. In the Chinese market, in addition to the release of EQS this year, two pure tram models of Benz EQA and EQB will also be put into production in Beijing Benz, and the domestic production of EQE will also be put on the agenda.
As another first-line luxury brand, on April 16, FAW Volkswagen Audi brought e-tron models. This time, it launched three models with a price range of 546800-648800 yuan, which was significantly lower than that of imported models. At the same time, in order to further expand the pure electric vehicle product line, FAW Volkswagen Audi e-tron Sportback is also on the market. The price of e-tron Sportback 55 Quattro luxury model is 658800 yuan, and the price of e-tron Sportback 55 Quattro model is 718800 yuan.
At present, in addition to the e-tron, Audi's q2l e-tron and A6L TFSI E and other electric vehicles have been domestically produced in FAW Volkswagen. According to the plan, Audi will launch nine new energy models to the Chinese market together with its joint venture partners this year; by next year, Audi's new energy product lineup in China will increase to 12.
Economist song Qinghui said that this year is a critical year for the transformation of luxury brands such as Mercedes Benz and Audi into electric vehicles. In terms of the Chinese market, which car company's new electric models are more popular in the market will be able to take more initiative in the new round of competition.
According to the data, BBA (Mercedes Benz, BMW and Audi), a first-line luxury brand, accounted for as much as 2 / 3 of the domestic luxury car market last year. Among them, BMW won the champion of luxury car sales with 777400 vehicles (including BMW and mini), Mercedes Benz ranked second with 774400 vehicles (excluding smart), and Audi ranked third with 726300 vehicles.
Beijing Business Daily reporter Liu Yang Pu Zhenyu
[the above content is transferred from "Beijing Business Daily website", which does not represent the view of this website. If you need to reprint it, please get permission from the website of Beijing business daily. If there is any infringement, please contact to delete it. 】
0