Sub health has become a common health problem of contemporary workers. Different degrees of sub-health will appear fatigue, insomnia, back, muscle soreness and so on.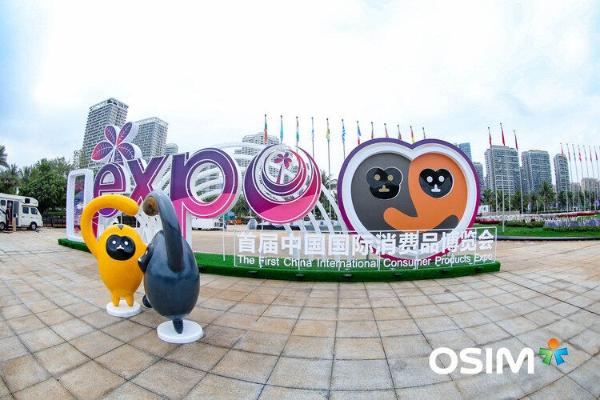 In this regard, it won the honor of OSIM, the most popular high-end international well-known health brand of Hurun Baifu in 2020. During the first China International Consumer Goods Expo (hereinafter referred to as the consumer Expo) from May 7 to 10, 2021, it brought a number of high-quality intelligent health products to convey the concept of "healthy life" to global consumers.
As President Xi said in his congratulatory letter, "the consumer Expo provides a platform for global consumer goods, which is conducive to all countries in the world to share opportunities in the Chinese market." This feast of consumption will accelerate the upgrading of consumption and bring unlimited opportunities for the construction of international consumption center cities and regional consumption centers.
At the same time, Guo kuilong, Secretary General of China Chamber of Commerce for import and export of mechanical and electrical products, and Ma Hua, deputy director of Guangdong Provincial Department of Commerce, visited OSIM Aosheng booth to learn about OSIM Aosheng's achievements in AI, artificial intelligence, health product innovation, etc., and hoped that OSIM Aosheng would further expand its trade cooperation with domestic and foreign participants by taking advantage of the platform and opportunity of the Expo, so as to make more achievements Better health products for global consumers.
New definition of "healthy life"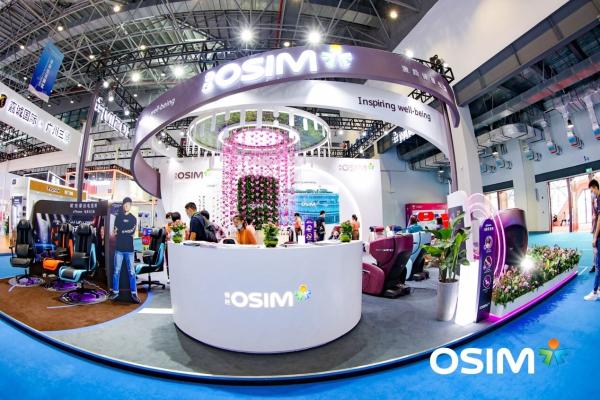 (the first China International Consumer Goods Expo – No.1 Hall of living and living exhibition area 1t002)
OSIM, known as the "wind vane" of global health products, brings its innovative 5-sense health care chair with "Ai pressure monitoring and comfort", Burgundy Red v-hand King massage chair with mother's Day restriction, electronic King massage chair with massage ability, eight change Mini queen massage sofa with eight kinds of comfortable seats, DIY massage chair and other explosive products to coconut island. Many products are equipped with intelligent black Technology: simulating the massage technique of real masseuse; Intelligent control app, to show consumers a set of fashion, high-tech, rich and healthy quality of life experience.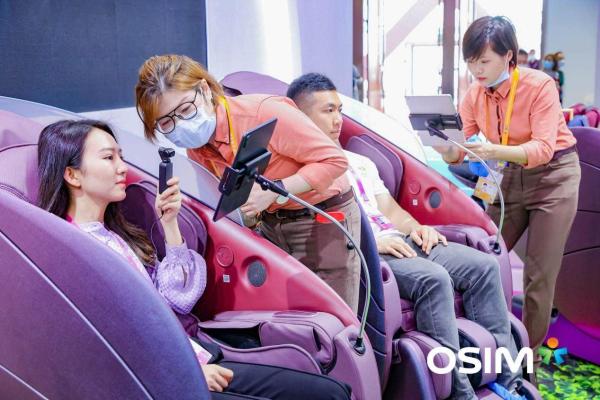 (professional audience experience 5-sense health chair)
Have you ever experienced the relaxation of "body heart spirit" integration? OSIM Aosheng's "udream 5-sense self-care chair" combines AI pressure monitoring technology to scientifically detect and track the pressure value of human body, and provides customized 5-sense massage program, leading a new way of healthy life. Users can also adjust the situational light through smart app to create the most suitable relaxing atmosphere. With 3D theater Bluetooth speaker, built-in fragrance box (white tea / Lavender), dark chocolate (optional), and simulated human massage, users can feel the deep relaxation of "body heart spirit" from the three-dimensional effect of five senses of vision, hearing, touch, smell and taste.
In addition, less than one year after its launch, udream5 has won two awards in the industry: German red dot award and awe epland Intelligent Technology Award.
In addition, OSIM Aosheng introduces a variety of health products according to the massage needs of users in different scenes by subdividing the needs of consumers.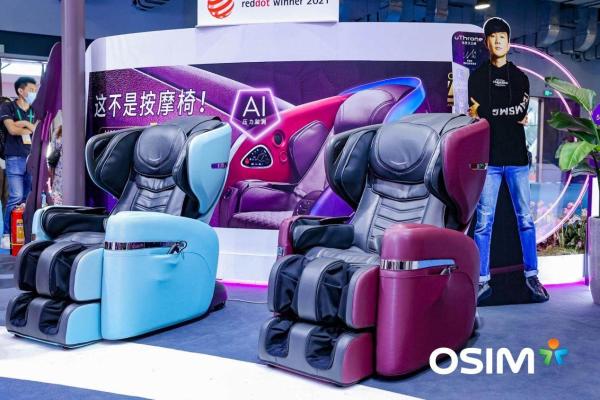 (v-hand King massage chair)
V-hand Tianwang massage chair is located in the new middle class, aiming to "let adults have dreams to do". It is the trump product of OSIM Aosheng's dream series. By simulating the manipulation of a real masseuse and cooperating with a 360 degree massage ball, we can provide users with suitable massage pain points, so as to improve the sleep quality of consumers. Just as mother's Day is approaching, OSIM auspicious displayed the mother's day limited color – "Burgundy Red" v-hand King massage chair in the consumer Expo, combining with family, health, mother and other keywords, further conveying auspicious's brand concept of "encouraging healthy life" to consumers.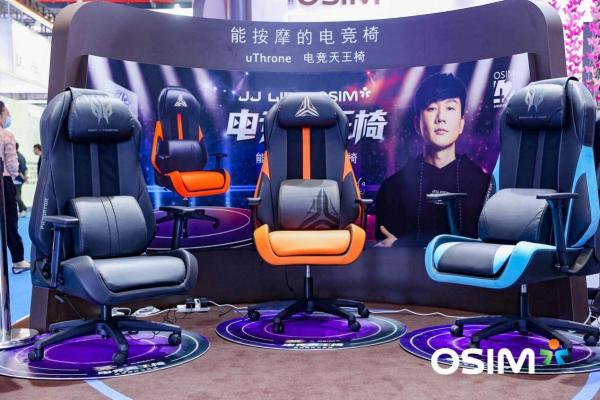 (E-sports Tianwang chair)
E-sports King chair is OSIM's first "massage able E-sports chair", which brings the e-sports crowd a "protector" outside the competition field and enables a new mode of "intelligent big health + E-sports". It is ergonomically designed so that long seated gamers can relax their necks and shoulders. Game players can also adjust the seat angle according to their own weight, up to 145 degrees, making full use of the rest time of the game for body massage.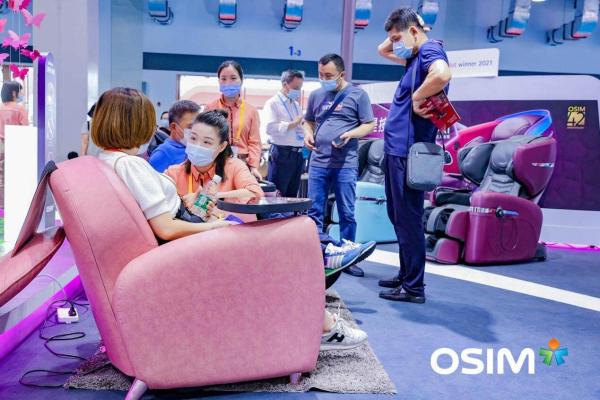 (smart massage sofa after 8 days)
The smart massage sofa has 8 kinds of transformation modes and 6 kinds of massage programs to meet the needs of different life scenes of consumers. Consumers can adjust the sofa mode and massage program according to different body parts to achieve relaxation of different body parts such as head, shoulder and back. It is worth mentioning that the leisure side table and dual USB interface will be upgraded after eight days to meet the needs of young digital people's life scene; In particular, macarone like lively color matching breaks the impression of traditional massage chair dark design.
Aiming at the diversified needs of users, OSIM auspicious also launched "DIY massage chair", that is, back massage instrument and leg massage instrument. Users can customize buttocks and feet, waist and back, shoulder and neck massagers according to their own needs. For example, if female users wear high-heeled shoes for a long time, which leads to foot and foot discomfort, legalo can help female users ease their legs; Office workers who have been working at their desks for a long time can use the back massage instrument to stretch their shoulders and neck and relieve muscle strain.
This consumer Expo, OSIM Aosheng exhibited a number of trump products, which all condensed the research and development achievements of Aosheng in the past 42 years. Through in-depth mining of users' needs for life scenes, OSIM Aosheng starts from consumer experience and uses different product combinations to meet consumers' needs for healthy life to a greater extent, and makes healthy life a new engine of the consumer market.
Accelerate the embrace of digitalization and usher in a new era of healthy life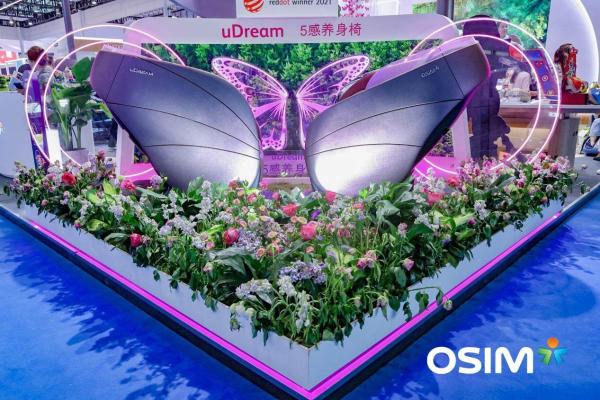 With the rapid development of 5g, ai artificial intelligence technology, Internet of things, cloud computing and other new technologies, OSIM, which performed well in the first consumer Expo, has always been based on the insight into the diversified life scenes of consumers, breaking through industry barriers, and continuously leading the innovation of health products industry with innovation and technology.
In this regard, OSIM Aosheng adapts to the changes of consumption demand and consumption scenarios, opens up online and offline consumption channels, and constructs immersive life scenarios through live broadcast to promote products.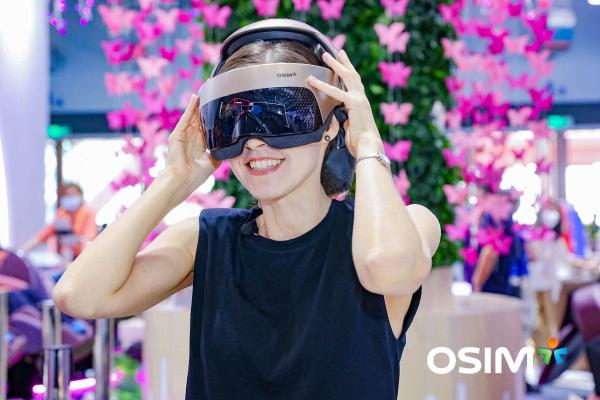 This exhibition, OSIM auspicious win through the "live" way, face the global consumers and exhibitors, let more people participate in the exhibition. Through a series of new ways, such as creative live broadcast content, professional explanation and in-depth experience, we have realized the digital exhibition playing method with many brain holes, which not only makes many audiences stop, but also drives the sales transformation.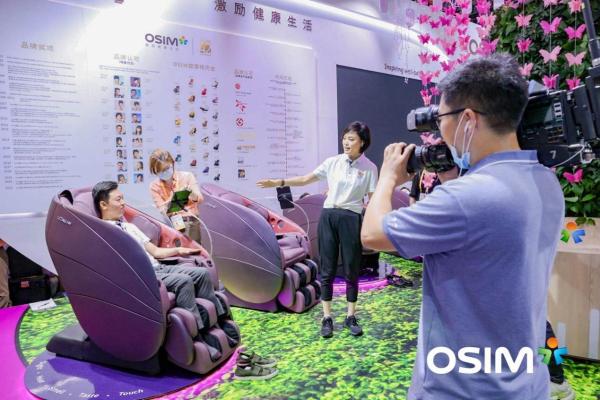 (CCTV media enters OSIM)
It is reported that CCTV live broadcasting has also entered OSIM Aosheng's exclusive live broadcasting room. OSIM Aosheng explains the products and experiences through live broadcasting by professionals, intuitively shows the audience OSIM Aosheng's various massage devices through CCTV live broadcasting, and delivers more flexible and more differentiated products to consumers, integrating brand building into diversified live broadcasting and social scenes, To bring consumers a unique consumption experience.
OSIM Aosheng's live combination boxing in the whole exhibition is both entertaining and professional. It makes the rich functions into a whole and move with the needs. It makes the vision simple, and skillfully conveys the selling points of the products to the off-site consumers in the interaction.
With the integration of "new elements" such as new mode and new communication, OSIM Aosheng is becoming more gorgeous and unique. On the one hand, it continuously cultivates its internal skills and makes good products and services; On the other hand, we should quickly explore new marketing and communication modes, and create wonderful enterprise live broadcasting.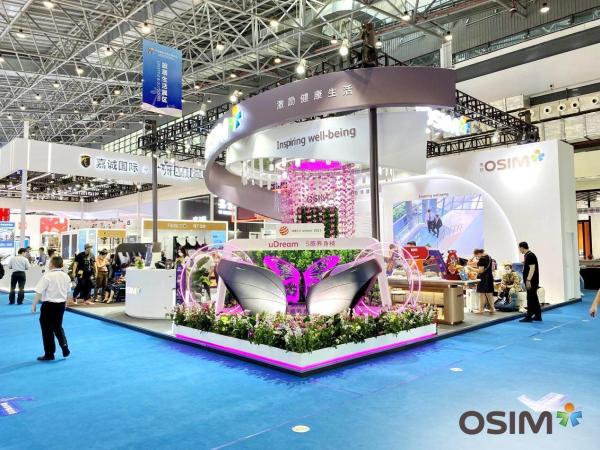 "Break through" consumer Expo, healthy life concept may become new vitality of consumer market
Consumer Expo is the first national level exhibition with the theme of consumer goods, gathering thousands of "high, new, excellent and special" consumer goods around the world. The duty-free policy of the consumer Expo is very attractive to both enterprises and consumers. The first consumer Expo adopted the mechanism of restricting ticket purchase. Therefore, consumers who are not lucky enough to attend the Aosheng exhibition can go to Aosheng's national offline stores for experience and enjoy a full range of product experience services.
China has entered an important stage of consumption upgrading, and consumers' demand for a better life is becoming more and more diversified. In this trend, OSIM integrates "healthy life" into consumers' daily life through products, and promotes the effective connection between supply and demand of domestic and international consumer goods through scientific technology and innovative design, so as to stimulate the new vitality of the consumer market.
two hundred and fifty-two