&March 30, 2021 driving China last night and this morning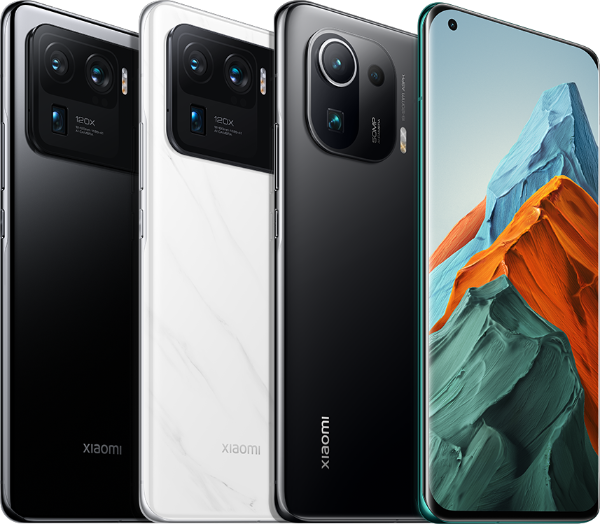 Xiaomi held new year's conference, Xiaomi 11 series launched with router, bracelet and other new products
According to our website, last night, Xiaomi held a new product launch in spring, officially releasing the super high-end flagship mobile phones Xiaomi 11pro, Xiaomi 11 ultra and Xiaomi 11 Youth Edition, together with five new products, including Xiaomi router ax9000 and Xiaomi Bracelet 6.
Xiaomi 11 ultra adopts high-end ceramic texture technology, with three colors of ceramic black, ceramic white and marble special edition. Xiaomi 11 Pro continues the design of Xiaomi 11, with a total of purple, black and green colors. Among them, green and black adopt mirror design, while the back of purple version adopts Ag frosting process. In addition, Xiaomi 11 ultra is Xiaomi's first mobile phone that supports IP68 level dust and water resistance.
Xiaomi 11 pro and Xiaomi 11 ultra are equipped with the same 6.81-inch Samsung E4 light-emitting material 2K 120Hz four curved screen. Peak brightness up to 1700nit, 3200×1440 resolution, 120Hz refresh rate and touch sampling rate up to 480HZ.
In addition to the home screen, Xiaomi 11 ultra has a newly designed "small window" screen embedded in the back camera area, which can not only display basic information such as date and notice, but also become a self portrait mirror on the back when taking photos.
Both Xiaomi 11 pro and Xiaomi 11 ultra are equipped with Qualcomm's flagship Xiaolong 888 platform, full blood lpddr5 memory and high speed UFS 3.1 flash memory. In terms of heat dissipation, Xiaomi 11 ultra is equipped with a new "ice sealed" liquid cooling system for the first time. With gameturbo 4.0, it can play various high-quality games freely.
In terms of imaging function, Xiaomi 11 ultra is benchmarked with Sony black card M7 camera in terms of shooting function, and the wide angle of Xiaomi 11 Pro is the same as gn2120 times. The periscope ultra long focus and 128 degree ultra wide angle all adopt Sony imx586 camera. All three lenses support 8K video shooting and dtof 64 dot matrix laser focusing. It is worth mentioning that Xiaomi 11 ultra won the first place in the total score of DxOMark camera, and the third place in the test of photography, wide angle and video.
In terms of charging endurance, Xiaomi 11 pro and Xiaomi 11 ultra are equipped with 67W wireless charging technology and 67W wired charging, which can charge 5000mAh large capacity battery to 100% in 36 minutes.
Xiaomi 11 Pro has three capacity versions, 8GB + 128GB for 4999 yuan, 8GB + 256gb for 5299 yuan, 12gb + 256gb for 5699 yuan; Xiaomi 11 ultra, which has the highest image experience, also has three capacity versions, 8GB + 256gb for 5999 yuan, 12gb + 256gb for 6499 yuan, 12gb + 512gb for 6999 yuan. On March 29, it launched 100 yuan deposit pre-sale, offline full pre-sale, 4 It was officially sold at 10:00 on February 2.
In addition, the Xiaomi router ax9000, which appeared on the same stage at the press conference, supports WiFi 6 enhanced version, with a maximum theoretical speed of 3.5gbps, and a 1GB movie can be downloaded in 5.3 seconds; it has 12 high gain antennas and 12 independent signal amplifiers, and is equipped with a 6-core flagship processor of Qualcomm, with a sales price of 999 yuan.
Another new product, Xiaomi Bracelet 6, is priced at 229 yuan. The bracelet adopts a more comprehensive 1.56 inch AMOLED channel full screen design, which increases the display area by 50% compared with the previous generation, and has 326ppi retinal screen display accuracy. Lei Jun said that the cumulative global sales volume of Xiaomi bracelet is 120 million.
Wentai technology announces acquisition of ofI optical camera business
Wentai technology announced last night that it had signed a relevant agreement with oufeiguang to purchase 100% equity of Guangzhou delta Imaging Technology Co., Ltd. and related equipment owned by Jiangxi Jingrun Optical Co., Ltd. at a price of 2.42 billion yuan, sohu.com reported. After the completion of the transaction, Wentai technology will further expand its business territory and form a complete industrial chain, so as to better seize the development opportunity of rapid growth in 5g, IOT and intelligent electric vehicles, and promote the long-term sustainable growth of the company's performance.
According to media reports, Wentai technology will soon resume the supply of front cameras to apple after acquiring related assets of ofI light, and the supply of rear cameras is also in progress. Industry chain people stressed that the premise of acquiring related assets is that they have fully communicated with apple.
Jingdong health released its first performance report
Later yesterday, Jingdong health released its first annual performance announcement after listing, sohu.com reported. According to the announcement, the revenue of Jingdong health in 2020 was 19.38 billion yuan, an increase of 78.8% over the same period last year, and the profit under non international financial reporting standards was 750 million yuan. As of December 31, 2020, the number of active users in Jingdong health year has reached 89.8 million, with a net increase of 33.7 million. In addition, the retail pharmacy business has more than 20 million kinds of goods (SKUs), and more than 12000 third-party businesses have settled in; more than 110000 full-time and external doctors practice on the platform, with an average daily online consultation volume of more than 100000, more than five times that of 2019.
two hundred and fifty-two