&At about 18:30 Beijing time on the 29th, Egyptian President Ceci announced that the "Changci" container ship's shallowing operation was successful and the Suez Canal blockage problem was solved.
Later in the day, the Suez Canal Authority issued a communique saying that the stranded freighter had completely returned to its normal channel.
At 4:30 local time on March 29, the heavy cargo ship "Changci" stranded in the Suez Canal finally resurfaced. Real time location shows that the hull of the 400 meter long cargo ship has been gradually straightened, nearly parallel to the canal bank. The rescue team will continue to work in the next few hours until the hull position is completely corrected.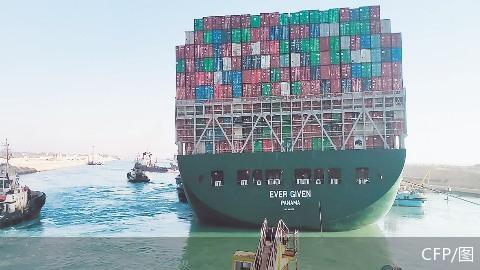 On the 29th, the "Changci" cargo ship, which recently ran aground at the bottom of the Suez Canal, began to move with the efforts of the rescue team.
On the 23rd, "Changci" ran aground in the new channel of the Suez Canal, causing channel congestion. On the 25th, the Suez Canal Authority officially announced the suspension of navigation of the canal.
As of March 28, 453 ships had lined up to enter the Suez Canal, and some had to make a detour from the southern tip of Africa, according to the data from Bloomberg.
Affected by this event, the volatility of crude oil rose in recent trading days, and the price of WTI fluctuated. Kpler, the tanker tracking agency, estimates that the tanker carrying 9.8 million barrels of crude oil is currently waiting to enter the canal, carrying about one tenth of the world's daily consumption. As the "Changci" ship became shallow, the giant container ships stranded in the Suez Canal gradually resumed sailing, and the oil price dropped.
According to the Wall Street Journal, the Suez Canal is an important shipping route for chemical raw oil to China, Japan and South Korea. This time, some related transport ships are blocked, which has led to the rapid rise of Eurasian freight premium of related products in recent days.
Allianz, a German insurance company, reported that every week when the canal is blocked, Global trade will lose 6-10 billion US dollars. Boat, head of macro-economic research at trade credit insurance company yulianyi, believes that every day when the giant ship blocks the Suez Canal, it may cause global trade losses of up to $10 billion.
Comprehensive report of Beijing Business Daily
[the above content is transferred from "Beijing Business Daily website", which does not represent the view of this website. If you need to reprint it, please get permission from the website of Beijing business daily. If there is any infringement, please contact to delete it. 】
0